Many local business owners learn about the Google local guide program when a reviewer of their business stands out with a badge over their profile image.  Most users get invited into the program when they first leave a review or add a photo to a business profile, but then forget about the program.
Basically, the Google Local Guide program is a way for users to earn points as they share their reviews, photos, and other map edits.  Google has offered special leveling up perks in the past to users as Google Local Guide benefits.  They gave out free Google Drive storage one year and I was sent a pair of Google socks in the mail as a surprise once.
Local Guide Recognition
Currently, the Google Local Guide program goes from Level 1-10.  At level 4, users start to stand out since Google places a small local guide badge next to their profile picture.  The icon changes as the local guides move up in the ranks.  The star badge has the same number of points as the local guide's current level.  The badge caps out as a 10 point star for a level 10 guide.  Signup for the Local Guide program if you are interested.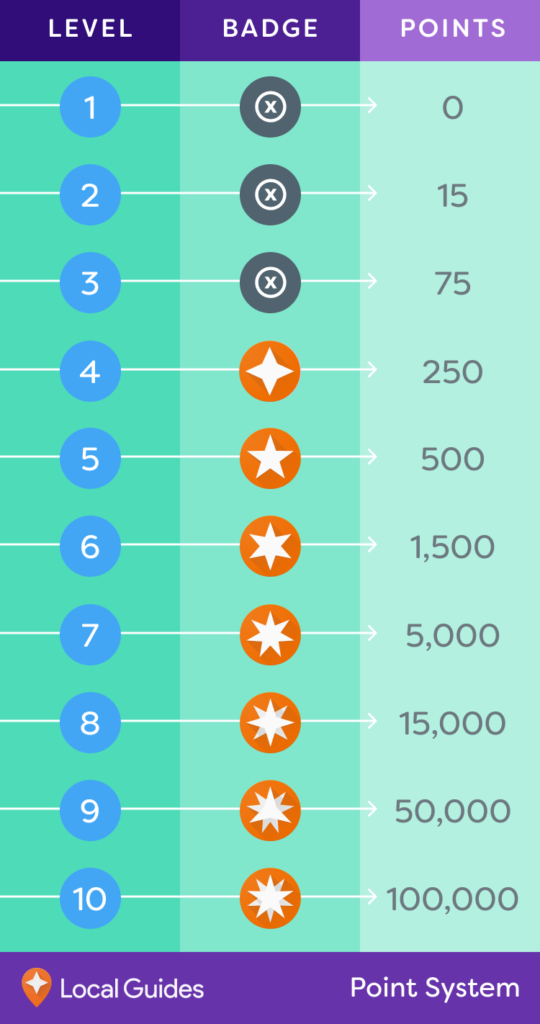 How Do Local Guides Affect Business Owners?
In most cases, the review for a business by a local guide is no different than others.  However, their badge and level can show others that they are experienced and trusted users of the Google Maps platform.  Sometimes their reviews can draw more attention than others.  Business owners can take a little extra time when responding to a review from a local guide and it might encourage other guides to take more time for their review.  Many local guides read through other reviews before posting theirs.  Remember not to offer incentives for leaving reviews because that is against Google's policy, but kindness goes a long way :).  We also suggest reminding customers to leave reviews for your business.  We offer free review request stickers if you would like one for your business.